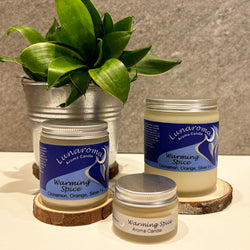 Lunaroma
Warming Spice Aroma Candle
Warming Spice...A little Spice, a little Sweet a little Citrus, and a touch of Conifer. Comforting and festive, this aromatic candle is perfect for burning in kitchens, on your desk while working, or in a bathroom.

The scent of our Warming Spice Aroma Candle reminds us of the cozy feeling of snuggling up to a warm fire while drinking spiced cider or the comfort of coming home to a fresh batch of sweet holiday cookies. Light this candle anytime you want to go to a place of comfort and cozy.

Our beautiful line of Aroma Candles are made with 100% non-GMO Soy Wax, Hemp and Cotton wicks and pure Essential Oils and Absolutes and contain no synthetic fragrances or petroleum additives.

Our premium Aroma candles are hand poured in small batches and are perfect for scenting your space, setting the mood, and elevating your daily lifestyle in a safe, non-toxic and all natural way. 

 

100 % Non-GMO Soy Wax, Hemp and Cotton wick, pure essential oils and absolutes.

No Parafin Wax

No Synthetic Fragrances

No Lead in wicks

No Plastic

No Petroleum

Before each lighting, stand up wick and trim to 1/4 inch.

For maximum aroma and to avoid tunneling and wasting of the candle burn time, be sure to burn candle until wax pool extends to the edge of the candle.

The aluminum lid may be used to extinguish the candle instead of blowing it out.

Always make sure to burn candles on nonflammable surfaces, and away from pets, curtains, children and anything else which is flammable.