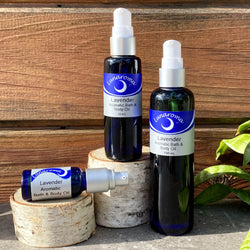 Lunaroma
Lavender Aromatic Body Oil
Lavender is the quintessential is clean, calm and floral notes. Our Wild-Crafted Lavender Body Oil is great for Lavender lovers, and those who want a gentle and light scent. The scent is beautifully rounded, full-bodied, floral Lavender extracted from wild gathered Lavender fields in France with a twist of the delicate and aromatic Lavender Absolute. It is a scent favored and loved by so many making it a perfect gift for any Lavender lover.

Organic Jojoba, organic Fractionated Coconut Oil, and pure of Wild Crafted French Lavender and French Lavender Absolute

Use after bath or shower when skin is still wet to seal in moisture and create a base layer of scent.

May also be used as a light perfume oil or hair oil. To use as a light bath oil, add 3-5 pumps to an already pour hot bath, or apply to the skin before getting into the tub.