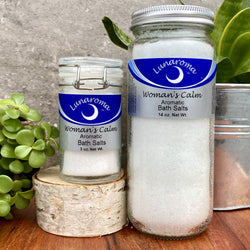 Lunaroma
Woman's Calm Aromatic Bath Salt
Woman's Calm Aromatic Bath Salt is herbaceous, floral, harmonious and balanced with notes of Clary Sage, Geranium, and Lavender. Perfect for creating a sense of ease and relaxation before moon time as well as during periods of frustration and tension.

Dead Sea Salt, Epsom Salt, organic Fractionated Coconut Oil, and pure Essential Oils.
Add 1/4 cup or more to an already poured bath. Soak and enjoy.