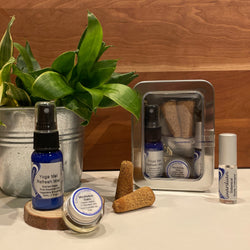 Lunaroma
Yoga Lover's Gift Set
Yoga Lover's Gift Set combines the meditative, clearing and cleansing aromas of Palo Santo, Frankincense, Lavender, Sage and Rosemary. Refresh and renew the energy in your gift yoga space, gift to a friend as a house warming gift, or gift to a loved one needing to clear, renew and center themselves and their energetic space to bring the most to their practice. 

Gift Set Includes:

1 each:

1oz Yoga Mat Mist

2- Palo Santo Cone Pieces (for burning)

3g Meditation Balm

5ml Guardian Body Cologne 

Our Palo Santo has been ethically grown and harvested with honor to its medicinal and spiritual roots. The Palo Santo used in these cones is grown in Ecuador, is milled into sawdust, mixed with vegetable gum, and hand rolled. 


AromaMist: Pure deionized Water, Pure essential Oils, Vegetable emulsifier.

Palo Santo Cones: Palo Santo Wood and Vegetable emulsifier

Guardian Body Cologne: Pure essential oils and absolutes in organic grape alcohol cologne base

Meditation Balm: Pure essential oils and absolutes in organic Jojoba and Vermont Beeswax

Use for aromatic and energetic cleansing and clearing of yourself and your space and to ground and focus during your practice.

Guardian Body Cologne may be used to mist on yourself, in the air, or any place needing some spiritually aromatic and protective cleansing.

Palo Santo Cones should be lit in a a ceramic or metal fire safe incense burner . Waft in the air and around areas you wish to clean aromatically.

Meditation Balm is to be applied to the temples, the third eye, under the nose and anywhere else you would like to bring aromatic awareness, grounded energy and focus to your yoga or meditation practice.

Yoga Mat Mist Spray your yoga mat generously then wipe with a cloth. Caution do not spray on items which could be harmed by contact with water. May also be used to refresh the air.