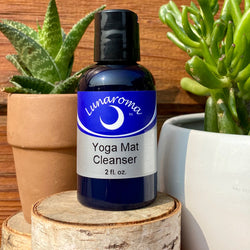 Lunaroma
Yoga Mat Refresh Cleanser
Freshen up your yoga mat with our Yoga Mat Refresh Cleanser. Enjoy a fresh, clean yoga mat and the crisp scent of this cleansing wash that includes Lemon, Tea Tree, Lavender, Eucalyptus and more.

Our Yoga Mat Refresh Cleanser is a gentle wash with strong essential oils formulated specifically to give new life to your mat and wash away dust and sweat from your practice. 

All our Yoga Mat Refresh Mists are packaged in PET plastic containers for ease of weight and travel in your yoga bag. These are recyclable but we encourage refilling with our bulk sizes instead. 

Saponified Organic Oils of Coconut, Olive and Jojoba, Vegetable Gum and Vegetable Glycerin, Organic Aloe Vera, Distilled Water, Rosemary Extract, Pure and Wild Crafted or Organic Essential Oils
Place your yoga mat in the bathtub and wet completely. Apply generous amount of cleanser and scrub gently with a sponge or cloth. Do this to both sides, rinse well and hang to dry.